Using A Tow Bar

Reese Adjustable Tow Bar, #R74950
The one I used to tow my 1965 GMC 2500 from Oregon is the 5000 lbs Adjustable Tow Bar,
#R74950, it lists for $150 on their site, you can get them at places like Cal Ranch,
Tractor Supply & the like, or click on the link above. It uses a 1/2" grade 8 bolt to
mount each side to the bumper, you want this to be as straight as it can to pull forward
or it will brake off the bolt. I pulled out the top bolt & hooked it to my 1965 GMC 2500,
towed it with my 1994 GMC 3500 Dually. I installed a 3/8 safety chain down one leg of the
tow bar, & tow lights to the rear of the towed truck for a safe trip.

I found that on dirt roads or steep driveways the front wheels wanted turn the wrong way,
So take those SLOW. don't take turns too sharp, take them wide. recheck the tow bar & bolts
for tightness at every stop. I didn't pull the drive line, but if it had to do it again I
would. I towed it home from Oregon to Utah, over 650 miles with out any problems.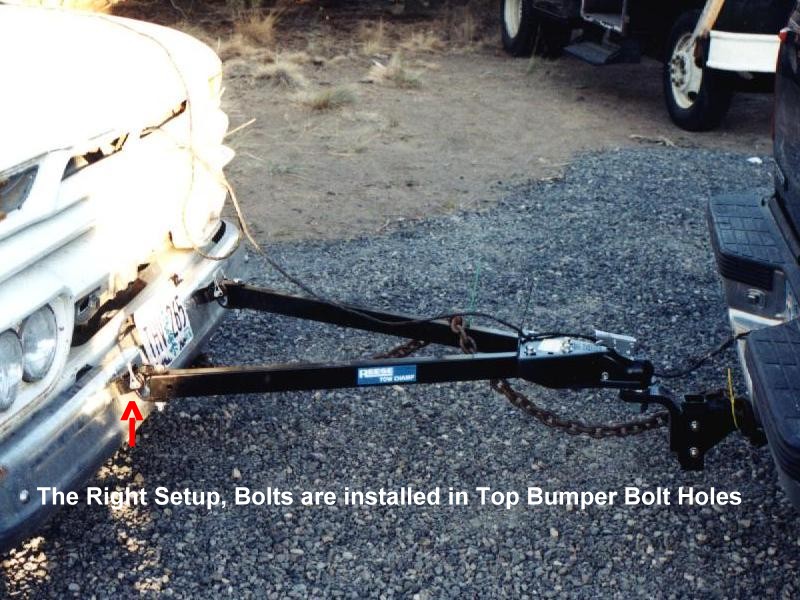 Here is a pic of the tow bar mounted the right way on the 1965 GMC 2500
You can even see the safety chain I used.
The next truck I towed home with the tow bar, the 1966 GMC 3/4 ton, was an adventure, I guess I
should not have tried this on Friday the 13th. We got the tow bar installed, I put the bolts
in the wrong hole on the bumper, the lower ones & was pulling on them at almost 90 degrees,
only held for 5 miles before breaking one off! I also reused old bolts instead of New ones.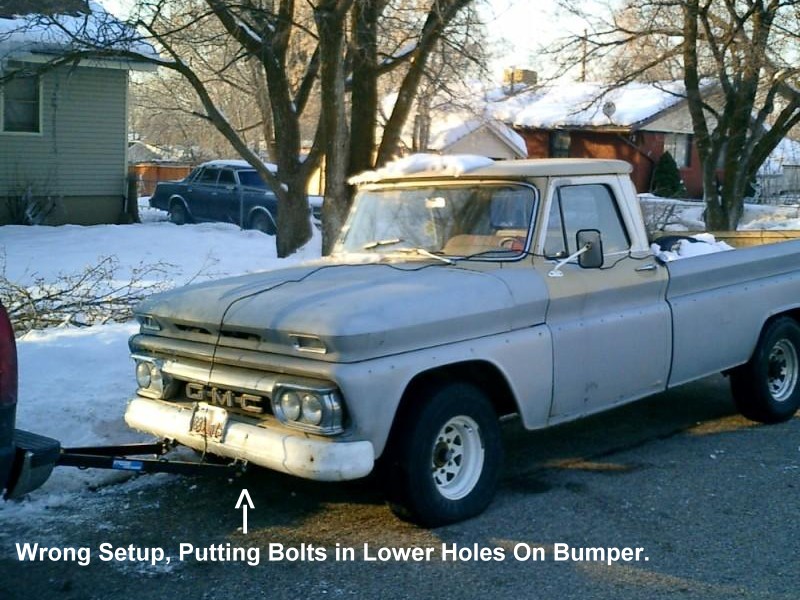 One front tire was low & was giving us some trouble, it lost it's bead before we could get to
air, so besure you can air up all tires before heading out. Trying to remove the lugs I ended
up braking my cheapo Korea socket & to top that off, my jack was bent. We were not far from the
Shop I work at, so I headed over there for more tools & to straighten the jack. I Got back, got
the tire changed & we were on the way again. By this time it was dark.

We got a few more miles (about 5) & one side of the tow bar broke away from the truck pulling
away from a light. At this point, I decide to drive it home, the lights worked & the plates
are up, it just has a bad clutch, so I figure if I can keep it moving it will be all right.
Got about half way home, going up a hill & the clutch gives out all together. I told my helper,
Brad, to just push me the rest of the way. The 1966 GMC had a receiver hitch, so we pulled that
& started pushing. We started out on this trip at about 4:00 pm & got the truck home at 7:30 pm,
we only had to move the truck 30 miles, ended up pushing it 15 of those.
And did I mention it was about 10 degrees out?

Lessons learned from this;
1) Install tow bar in upper holes.
B) Use new grade 8 bolts each time tow bar is used.
3) Use the safety chain.
D) Bring a helper & be prepared for the worst.

Hope this has been of some help.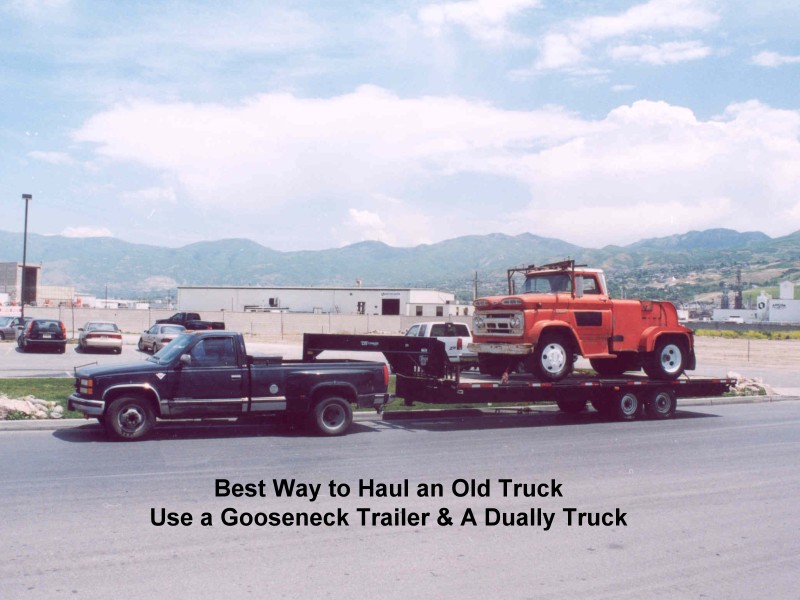 The Best Way is to use a Gooseneck Trailer & Dually truck to haul around old trucks
this gets them off their wheels, which can have rotten tires, dry bearing, or many
other problem if the truck has been sitting for some time. In both case above, the
Truck were driven on the road shortly before being picked up, & both still had good
License Plates. The Bigger truck seen here also ran, but the palte had expiared.

For More info on Hauling Your Old Truck, See Trailering Tips @ The StoveBolt Page.
~ 6066 GMC Trucks ~ 6066 GMC Trucks ~ 6066 GMC Trucks ~ 6066 GMC Trucks ~ 6066 GMC Trucks ~ 6066 GMC Trucks ~ 6066 GMC Trucks ~ 6066 GMC Trucks ~
© 2000-2006 6066 GMC Trucks. Last Updated March 28, 2006.