Brooks Oregon Mini Meet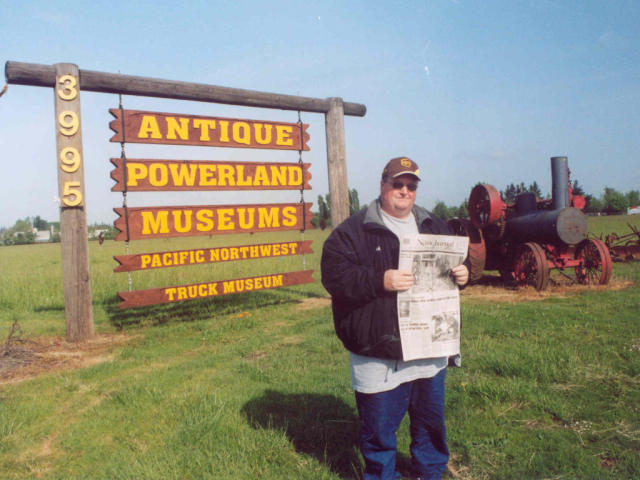 This is only 9 of the photos from the Brooks Mini Meet, full size & more photos can be found @
~~~> Jolly's WebShots Albums <~~~ & ~~~> Ed's WebShots Albums <~~~

The Brooks Oregon Mini Meet was held April 24th 2004 at the Antique Powerland Museums Complex.
We had 11 Members showed up for the meet, which was a combined meet with the Old COE Truck Club.
I also invited the Guys from the 6066 Chevy Truck Forum at ChevyTalk.org but only one of them showed up.
We checked out as many of the Museums that were open, had fun & told some stories. We even had a bit of
food thanks to Ed's Wife Sharon. I had my 401M which was why I was in Oregon in the first place, & Pete
brought a bunch of GMC Parts that have been talked about in the club to the meet for show & tell.
Check out the Brooks Mini Meet Photos found at the two links about.

The folks who showed up & what Club or Group they are from. From the 6066 GMC Trucks Club:
Michael "Jolly" Goodfellow, Sam Roe, David P. Leifheit, Pete Chronis, Richard Rusconi, Ed
Snyder & Aaron Huskon. From the Old COE Trucks Club: Ken "Slider" Berryhill, Al Collingwood,
Ray (Dodge COE), & Ron Peace who could not find us because we were looking in the museums.
From the ChevyTalk.org Forums, Joe Chasse. The old COE guys left around noon, Joe headed early
becouse of wiring problems with his 1965 Chevy Motorhome, most of the 6066 GMC Guys stayed
around all day, with Aaron showing up in the afternoon. We had a good time.
~ 6066 GMC Trucks ~ 6066 GMC Trucks ~ 6066 GMC Trucks ~ 6066 GMC Trucks ~ 6066 GMC Trucks ~ 6066 GMC Trucks ~ 6066 GMC Trucks ~ 6066 GMC Trucks ~
© 2000-2008 6066 GMC Trucks. Last Updated July 20, 2008.