Four Wheeler, July 1965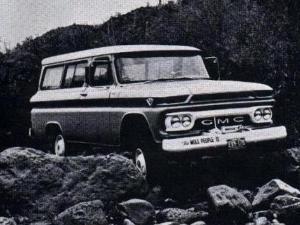 Owners Report: GMC Suburban
by Peter G. Kokalis
If you need plenty of hauling space & want a large, rugged type vehicle for back country
travel you may be one of the many four wheelers who lean toward a heavy-duty station
wagon like the GMC 4wd Suburban.
This type of rig seems to be popular in the southwestern desert regions where terrain is
tough, distances are long & travel trailer hauling is common. With it's 1000 pound, 305
cubic inch V-6 engine, this 4wd "Jimmie" can easily haul any one of the over 325,000
travel trailers now in use in this country.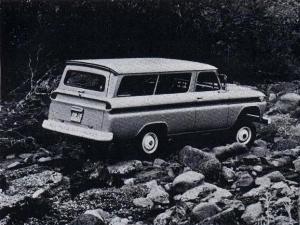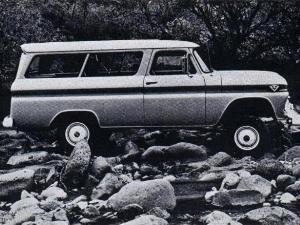 My rig is equipped with the optional extra heavy-duty engine which includes Silchrome XB
intake valves, Silchrome 10 hard faced exhaust valves & positive rotation on all valves --
considered practically a must for severe service such as off-road travel & heavy trailer
towing. The most completely equipped vehicle of its type that it is possible to order from
GMC, the truck is further equipped with maximum traction rear differential, four speed
transmission, & air conditioning -- especially appreciated under the hot Arizona sun --,
radio, heavy-duty Airflow heater/defroster, heavy-duty 70 amp battery, & increased
cooling capacity, disability switch, one quart full flow oil filter, outside rear view, stainless
steel, Prutsman dual mirrors, hand throttle (locking type), tinted glass, Warn hubs, cigar
lighter, 7.00 x 15 8-ply tires, oil pressure gauge, ammeter, vacuum gauge, tachometer, & winch.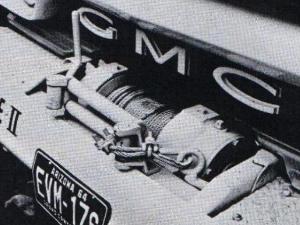 The Winch assembly is a factory installation & is composed of a Braden winch, Spicer
drive lines & a Chelsea power takeoff. The front grill was chopped & the winch
installed father in than usual with larger trucks, in order to maintain as much as possible
the vehicle's original approach angle. The winch spool contains 150 feet of cable. The
winch control is mounted on the dash panel.
Seat arrangement is another example of the tremendous flexibility of the GMC Suburban.
The vehicle seats up to eight adults comfortably. Seats can be easily & quickly arranged
to suit almost any passenger or cargo needs. The rear seat & an optional center seat run
in a track & may be spaced to please you -- turned around or placed along the side. The
right front seat moves all the way forward to provide a clear path to the rear seat. To
convert it to a full-length cargo carrier, simply remove the rear seats completely.
With the rear seats out the GMC Suburban is wider than a double bed & sleeps two
comfortably. By dropping the tailgate, the rear seat can still be left in while two adults
sleep with plenty of room. No tents or cots to set up, just drop the tailgate & roll into
your sleeping bag.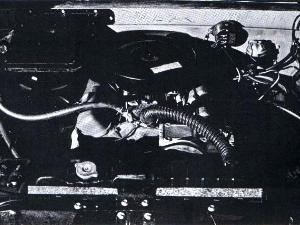 The heart of the GMC Suburban is its powerful V-6 engine, its four & a half inch bore
& three & five eights inch stoke are the largest of any stock engine in its class. A
monstrous engine throughout, it features a short, rigid crankshaft with four extra large
main bearing journals, cam ground cast aluminum pistons, extra heavy block &
crankcase, aluminum rocker arm brackets & the largest diameter intake & exhaust
valves of any comparable size engine. Combined with 7.00 x 15 tires, when the truck is
rolling along at 74 mph the tach shows a mere 3,000 rpm. Here is an engine with more
power than the average four wheeler will ever need. Its horsepower plus a compound gear
ratio in low of 48.48-to-1 gives it the guts necessary to go almost anywhere. However as the
old saying goes, if you have a big bore, you must to feed it. Gas mileage in the city is rarely
above 11 mile per gallon. Highway fuel consumption is in the neighborhood of 14 to 15 mile
per gallon. This is generally comparable to most half & three quarter ton trucks. Our
consolation is the fact that if we had economical gas consumption as a primary goal, we
wouldn't be driving this type of vehicle in the first place.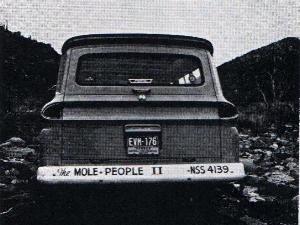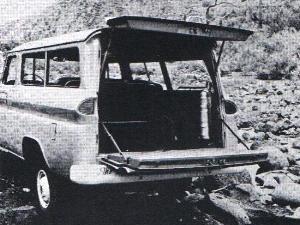 Inside spare gas tank installation provides another 16.5 gallons capacity.
Tank has outside venting.
What, exactly, is the function of a vehicle of this type? Generally, its uses parallel rather
than compete with bob-tail rigs. It is not an ideal vehicle for particularly difficult runs nor
a competition 4wd rig. If you get your kicks racing up a hill, through a narrow wash or up
a sand dune no one else can make, then this truck is not for you.
In return for its reduced maneuverability, the GMC Suburban offers a number of
advantages, some more apparent then others. The large amount of passenger &/or cargo
space is obvious. This type of body can be almost used as a camper, as is, with no further
additions of modifications necessary. As opposed to a pickup truck, everything can be
easily kept under lock & key in a station wagon type body. & nothing could be better
for long trips than its spacious roominess. For camping with children, it's tops. No need to
tow your 4wd rig behind you, you're driving it. Though no one vehicle suits the needs of
all, many will find the 4wd GMC Suburban ideal for their purposes.
Return to The 6066 GMC Trucks Memorabilia Page.
~ 6066 GMC Trucks ~ 6066 GMC Trucks ~ 6066 GMC Trucks ~ 6066 GMC Trucks ~ 6066 GMC Trucks ~ 6066 GMC Trucks ~ 6066 GMC Trucks ~ 6066 GMC Trucks ~
© WebPage Design, 2000-2008 6066 GMC Trucks.
© Artical & Photos, 1965 Four Wheeler magazine.
Last Updated July 20, 2008.