GMC Crew Cab Trucks
Crew Cab conversions from this era were built by outside custom coach companies. I have
seen four different types of crew cabs, Two Door, Three Door, & Four Doors of two types,
one with full size doors. Most were built for outfits like the Railroads & construction
companies. Some have full size beds, other are cut down, mostly the 4 wheel drive trucks.
Below are some examples of the trucks found.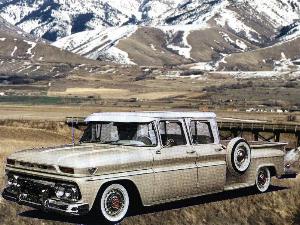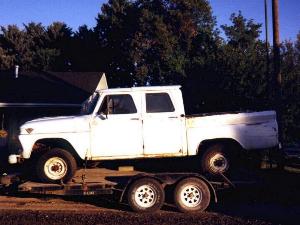 1962 Four Door Full Size Fenderbed. 1962 Four Door 4 wheel drive cut down bed.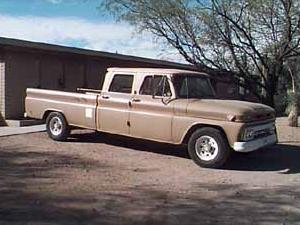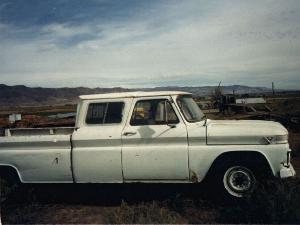 1966 Four Door Full Size Bed. 1964 Two Door Full Size Bed.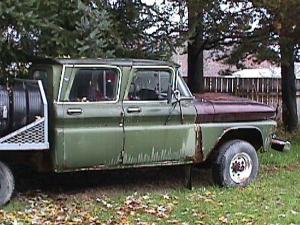 1963 Four Door 4 Wheel Drive short bed.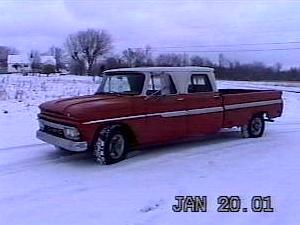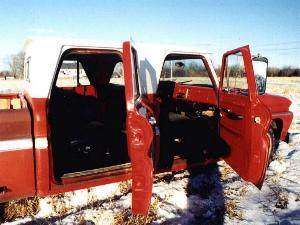 1965 Four Door with Full Size Doors and long bed.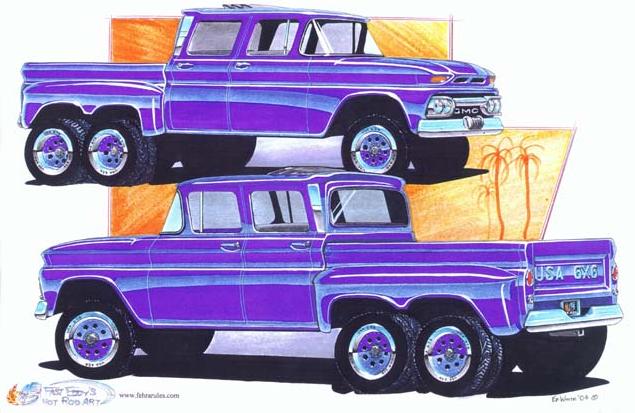 Daniel Little has come up with the 10 wheel drive 6X6 Crew Cab, he planes to build it Soon.
Check out his WebSite, USA6x6.com, A Concept Whose Time Has Come!
All Crew Cabs are aftermarket built, none came from the factory. Most of these Builders also
built streached Suburbans, Ambulances, & added windows & doors to panel trucks as well.
Some crew cabs were nothing more than a sleep type unit that had a seat & Doors. Here is a
Short list of the Custom Coach builders that I have found to-date, There may be more & if
you have one built by some other company, please let me know.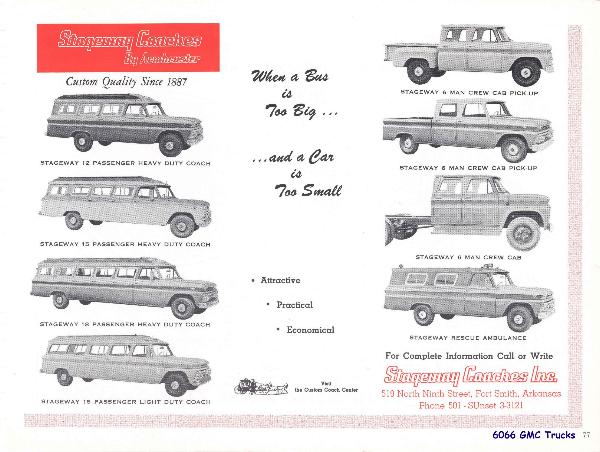 Armbruster (Stageway) & company, Inc Fort Smith Arkansas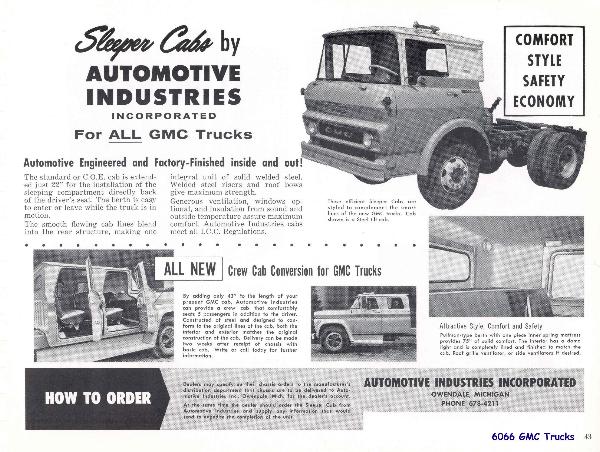 Automotive Industries Inc. Owendale, Michigan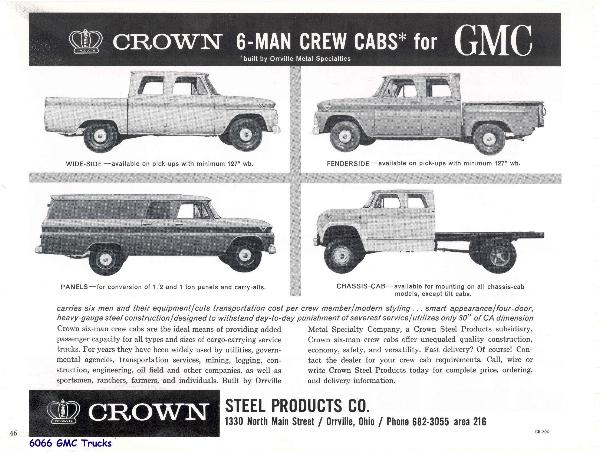 Crown Steel Products Co. & Orrville Metal Specialty Co. Orrville Ohio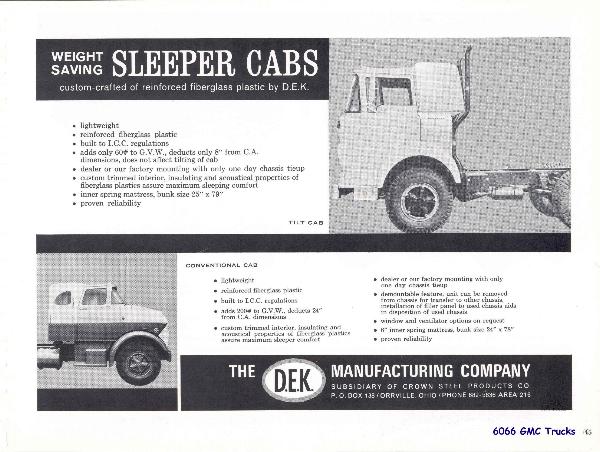 The D.E.K. Manufacturing Company Orrville Ohio
Alton Co. Pigeon Michigan, www.altonco.com.
Holan A Division of the Ohio Brass Company Cleveland Ohio
McCabe-Powers Body Company St. Louis MO.
Montpelier Manufacturing Company of Montpelier, Ohio
Proctor-Keefe Body Co., Inc. Detroit Michigan
Don't be asking if any of these are for sale, most are photos that were on eBay or sent to me. I
don't know of any that are for sale. If you want one your in a group of folks that most likely is
bigger then the supply of trucks, your best bet would be to get two trucks & build one yourself,
it won't be that far off as they are all built aftermarket anyway. My self I'm thinking of
building a sleeper type crew cab for my truck, that way I won't be cutting up the good cab on
my one ton. I have been thinking of taking two cabs, cutting them at about 21" from the back,
& grafting them together like the photo below to make a 42 inch cab. That still give me a short
bed worth of frame behind for a flatbed or short dually bed.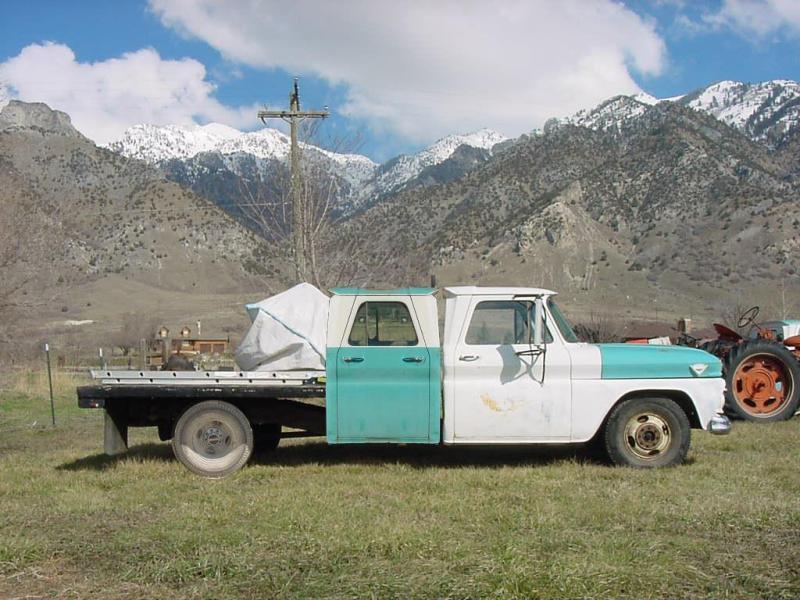 The Jolly Cab Crew Cab sleeper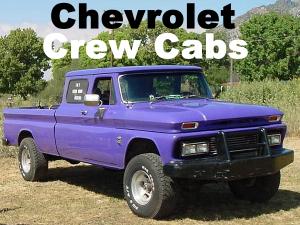 Here are Some Chevrolet Crew Cab Trucks.
~ 6066 GMC Trucks ~ 6066 GMC Trucks ~ 6066 GMC Trucks ~ 6066 GMC Trucks ~ 6066 GMC Trucks ~ 6066 GMC Trucks ~ 6066 GMC Trucks ~ 6066 GMC Trucks ~
© 2000-2008 6066 GMC Trucks. Last Updated July 21, 2008.