GMC Crackerbox (F-Model) Trucks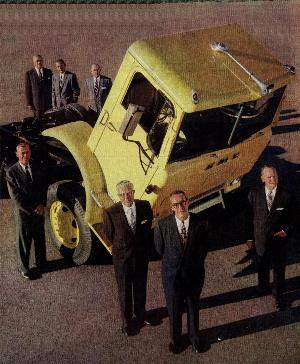 The all NEW GMC Aluminum "Tilt-Cab Cruiser" is commonly called the "Crackerbox" by truck fans. GMC
introduced them in 1959, production was stopped after 1968 when they came out with the Astro. Thin new
lightweight Tractor hauls up to 1,824 lbs extra payload and measures only 48 inches from bumper to
back of cab. Also a honey for short turn radius in crowed metro complexes. GMC's DLR8000 is the lightest
weight Aluminum Tilt-Cab in it's class. The first one came in a standard or set-back front axle.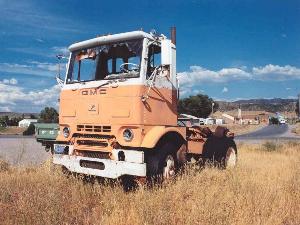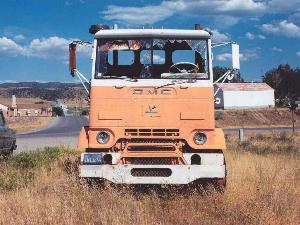 VIN FH9640AD2152J. 8V71 Detroit Diesel. This one was seen in Arimo Idaho and from the looks of the
windshields, it has not been moved in a few days. I'm looking for one of these trucks, so If you
own this one and want to be rid of it, let me know.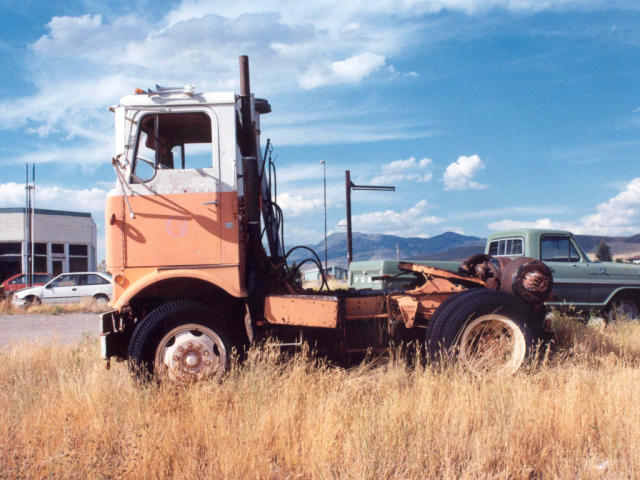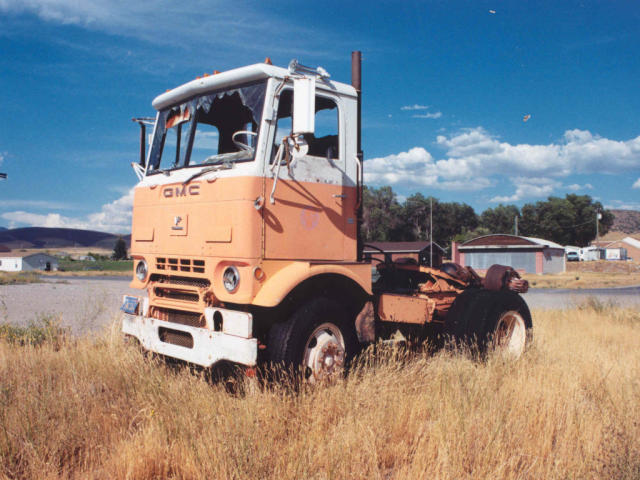 In 1960 the GMC Aluminum Tilt-Cab truck became the F-model in 7000 to 9500 series. They could be ordered
with GMC's Gas Twin-Six V-12 engine, or Detroit Diesel 71 series Diesel Engines. Any other make of Diesel
engine could be found between the frame rails too. It could also be had with a sleeper that was 75" long X 30"
deep, but it was only 22" deep behind the driver. And you could also get a storage compartment below the sleeper.
The DFW had tandem rear axles.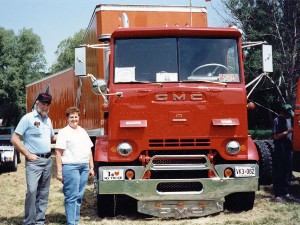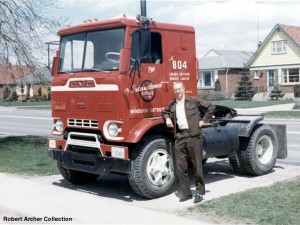 Click Photo For this Trucks Home Page.

The tractor had a modified 671 Detroit diesel with 5 speed overdrive Spicer transmission. Pete pulled for ICL
(International Cartage Ltd.), hauling auto parts from Windsor, Ontario to the General Motors assembly plant
in Oshawa, Ontario. All ICL tractors were GMC's as they were a contract carrier. They also had a terminal in
St. Catherines, Ontario to serve the engine plant and foundry there. Pete is on the left and Robert (aged 15)
is on the right. Peter sold his GMC Crackerbox to Mackies in 1973. Mackies painted the GMC white, changed the
front axle from Dayton to Budd and put on the polished wheels. Mackies also chromed the bumper, added the
polished tanks and extended the frame by 2 feet. They later sold it to Dick Wiley, who had it painted the red.
It is presently owned by Butch Galley of Oshawa, Ontario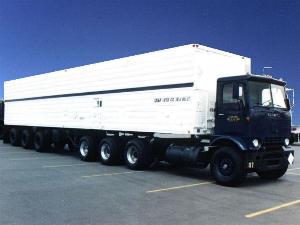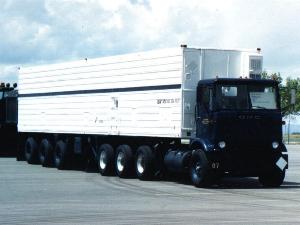 USAF Missile Transporter Truck. These trucks seen a lot of time moving USAF Missiles around the country.
This truck was on display at the Golden Spike Arena in Ogden Utah and was based at Hill Air Force Base.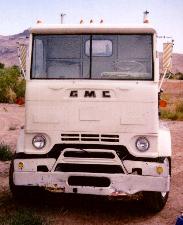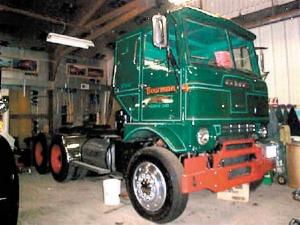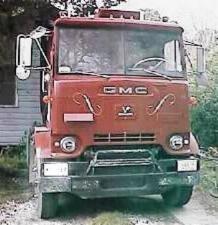 Here are a few more photos I have had sent to me of GMC Crackerbox Trucks.
More info can be found on the by clicking on the Truck Icon
~ 6066 GMC Trucks ~ 6066 GMC Trucks ~ 6066 GMC Trucks ~ 6066 GMC Trucks ~ 6066 GMC Trucks ~ 6066 GMC Trucks ~ 6066 GMC Trucks ~ 6066 GMC Trucks ~

© 2000-2008 6066 GMC Trucks. Last Updated July 24, 2008.