1965 GMC 2500 Dual Wheel Truck
Bringing the Truck Home From Crooked River Ranch Oregon.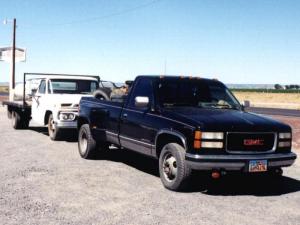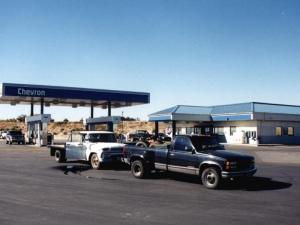 Rest Stop in Riley Oregon. Fuel Stop in Parma Idaho.
I towed this 1965 GMC 2500 home the entire 612 miles on 6000 lb tow-bar. Had no trouble
with this set up & it pulled great. I got around 10 mpg on the trip home. We make a few
stops & took two days with a stop over in Boise. I didn't want to take a chance of any
thing going wrong or my falling A Sleep At The Wheel.
Pictures of My Truck
This is what this truck looked like when I got it home in the fall of 2001. It will be getting
some changes like painting & bodywork, reworking the bed, & some Lighting Up-Grades.
The Vehicle Identification Number of my truck is: 2505ZF2807B
This tells me it's a model 2500, which is a 1 ton, with a wheelbase of 157".
It was built at the GMC plant in Freemont California on July 27, 1965, was
1807th truck off the line this year. It has a GVW rating of 10,000lbs.
This trucks is equipped with the GMC 305E (#305E 387218) V6 Engine. Looking at these pics
you will also see this truck has power brakes & the Heavy Duty heater. This truck has
the SM420 4-speed transmission with park brake on the output shaft. It also has the H072
GMC Rear Axle with a gear ratio of 4.57:1. This truck came with a few options, like
2 speed wipers & washer, tinted glass, interior convenience, right hand door lock, airfoam
seat cushion, Brake booster equipment, one quart oil filter, 11" clutch, heavy duty valves,
42 amp alternator, 70 amp battery, & increased cooling. All this is listed on the Buid Sheet.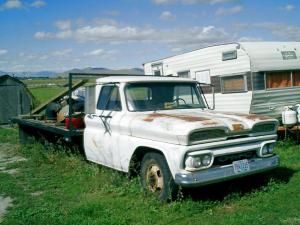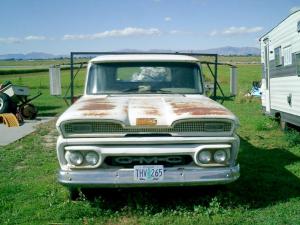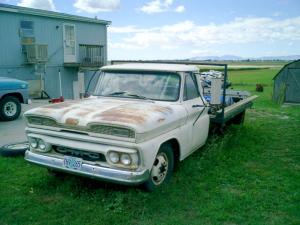 I have installed Two Different hoods on my truck now, the first one was off my 1962 Parts
truck, the other came from a 1960 GMC in the Grantsville Salvage Yard. The 1960 Hood matches
the lines of the Brush Guard I got, so I'm going to leave it on my truck. As most of us know,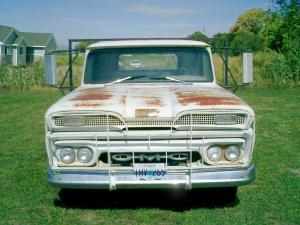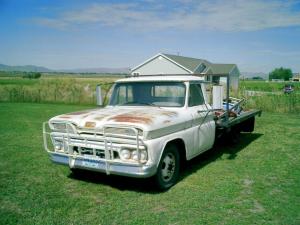 the four hoods found on these trucks, 60-61 GMC, 62-66 GMC, 60-61 Chevy, & 62-66 Chevy
will fit any of the trucks. Well I found out there is more to it than just changing the hood & if
your going to do this kind of swap you need to get all the hood latching parts off the donor
truck. The hood latch on my 65 is taller than the hood latch on the 62, so I pulled the latches
off to swap them & that would not work, as the opening in the hood were the latch mounts if not
the same. So you need to pull the Hood Lock Support plate with the pointed adjusting lock pin.
See the Hood ID Page for more Info on Hoods.
Future Modifications?
Set Up

Year

Model Serial #

Engine

Transmission

GVW lbs

Body Style

Bed Style

Power Brakes

Rear Axle

Stock Factory

1965

2505ZF2807B

GMC 305E V6

Muncie SM-420

10000

Chassis Cab

Flat Bed

4-Wheel
Drum Brakes

H-072
w/4.57:1

Future Plan I

1965

2505ZF2807B

GMC 401 Magnum V6

Muncie SM-420
Spicer 5831-B

10000

Dually
Sleeper

Pickup

4-wheel
Disk Brakes

GM 14 Bolt
w/3.73:1

Future Plan II

1965

2505ZF2807B

DH478 Toro-Flow

New Process 540-GL
Spicer 5831-B

10000

Dually
Sleeper

Pickup

4-wheel
Disk Brakes

GM 14 Bolt
w/3.73:1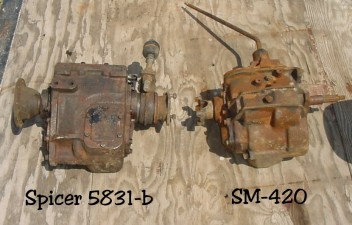 Some upgrades I'm working on, one is installing a 3-speed Spicer 5831-B Auxiliary Transmission
to add not only a Over-Drive to my truck but also an Under-Drive. See the Spicer 5831-B
Auxiliary Transmission for more Information. I have a New Process 540-GL 5-speed I will be
installing as well along with a GMC 401M cid V6 engine. With this set up I will have 12 gears
with the stock SM-420 4-speed or 15 gears with the NP-540-GL. See the Gear Charts.
The truck has a GMC 305E V6 engine in it now & I have a GMC 351C V6 & will be picking up a
GMC 401M V6 this spring from Oregon, which when you think about it is strange as my truck &
the 351C I have both came from Oregon & that is also the state I was born & grow up in. The
401M is my top choise for a bigger engine, & if it turns out to be a good one I may sell the 351C
later. I'm also looking for a newer ont ton dually rear axle to replace the sotck on with. The stock
axle has a low ratio of 4.57:1 & is not vary good for todays driving. I'm looking for a GM 14
Bolt Dually Rear Axle with a gear ratio of 3.73:1, see the Gear Charts page for what
I'm looing at for gearing with the above combinations.

I see Boyce Equipment in Ogden Utah sells a
GM 14-Bolt Rear Axle with disc brakes, that would be nice to have.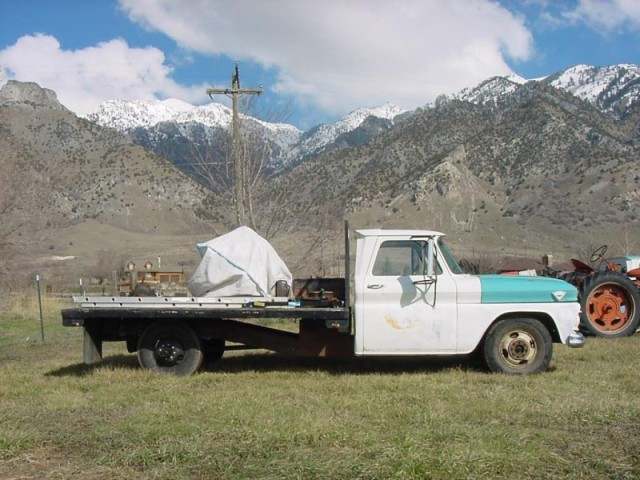 See My Truck Change Before Your Eyes! from what it is now,
to a sleeper Cab & then a Dually Sleeper Cab Pickup.

I have been thinking of adding a Sleeper type Crew cab to My truck, & I have also thought
about installing a Tandem Rear Axle set up. I have been in concept in the owner of USA 6X6, he
can build me the axle set up for a good price if I supply the axles, so now I need two
mid 90s dually rear axles.

I'm going to change the front brakes over to Disc from drum, I got some parts & will be getting
them ready to install. I have posted a Page showing the swap. I also found I had vary bad brakes
in the rear, both wheel cylinders are leaking bad & one had a piston frozen up. Also the wheel
seals were leaking. The truck also has the wrong wheels on it, it should have flat rims at the
mounting & I have found three that are the off set hole type. The wheels on my 1994 GMC Dually
will fit this truck so I need to find a set of these wheels.

~ 6066 GMC Trucks ~ 6066 GMC Trucks ~ 6066 GMC Trucks ~ 6066 GMC Trucks ~ 6066 GMC Trucks ~ 6066 GMC Trucks ~ 6066 GMC Trucks ~

© 2000-2009 6066 GMC Trucks. Last Updated December 11, 2008.