Jolly's 1962 GMC Suburban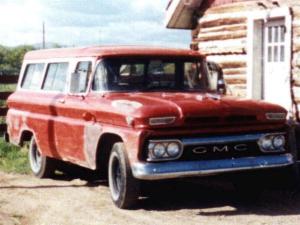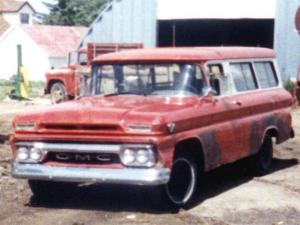 I had only begen to add lights. Note 1955 Chevy 2 ton in bcakground.
Back in 1983-85 I had this Burb, but it was in really bad shape (rust everywhere). The body was
cut off the frame, leaving only the front cowling. It was used as a brush buggy for a time
& after blowing up the 305 cid V6, it was junked. But the Photos live on. By the time it died,
it had cab and side marker lights, side turn lights, roof mounted light bar with lots more lights.
I also had a tilt steering column out of a 1973 Buick. It also had extra brake lights in the tailgate,
they where added before the steering column was changed out to get brake lights on this beast.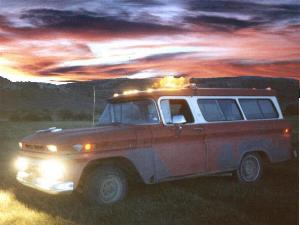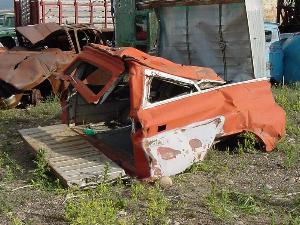 I think I might have plenty of lights now. What's left at this date.
On September 30 2001, I was up to the ranch Junk yard and to my surprise most of the body parts are
still there in a big pile of junk, so I dug down to were the vin plate should be, and it just got
missed with the hot wrench. I could not find the engine tag, or the engine, that had been pulled
with trans (SM-420) attached, but I did find one Custom emblem. The V-6 emblems were gone from the
hood, and both parking lamps broken. The vin # is; 1001PJ1862A, when I bought this Burb it said it
was a 1963 on the title, but now that I have learned how read Vin Numbers, it turns out to be a 1962.
It also had the Coil springs in the rear which was changed to leaf springs on the 1963 Models.
I have also saved part of the tailgate latch, but it's just the outer skin and it's beat-up a bit. The
last pic shows what's left of this GMC Suburban. It's now resting in the salvage yard up at the Ranch.
~ 6066 GMC Trucks ~ 6066 GMC Trucks ~ 6066 GMC Trucks ~ 6066 GMC Trucks ~ 6066 GMC Trucks ~ 6066 GMC Trucks ~ 6066 GMC Trucks ~ 6066 GMC Trucks ~
© 2000-2009 6066 GMC Trucks. Last Updated December 10, 2008.