Museum & Club Headquarters
The Future of the Club
This club has grown to about 500 signed up members, with only about 100 of those taking
an active part in the group. Many have sent in the voluntary dues, but many more donations
would be needed. I have been offered trucks, FREE if I provide a place indoors for them, but
I don't have the funding needed to build a National 6066 GMC Truck Museum, it would nice to
have a place to display 1960-1966 GMC Trucks &/or their V6 Engines. A place where GMC Trucks
could be restored. A place to display all the 6066 GMC Memorabilia I have collected & a place
to install my own server for the 6066 GMC Trucks site.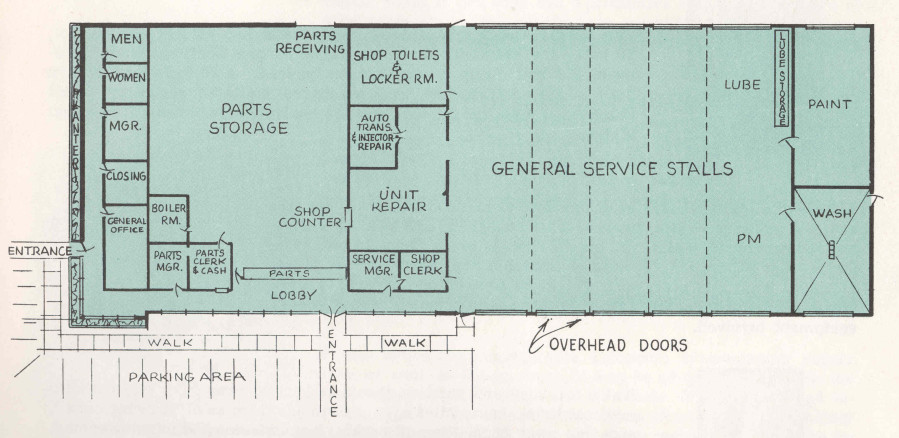 Here is what GMC was showing in 1960 in the "Dealer Service Manager's Operating Manual"
as what they thought a GMC dealership should look. Also you can see the floor plan of
the shop, any one want to help build this? They didn't give much room for sales, &
there is no show room, it's just a repair shop. They must have had it in mind to have
the show room & sales & shop in different buildings.

I need to get a shop built to work on my trucks, & it will also house the
National 6066 GMC Trucks Club Headquarters & My collection of 1960-1966 GMC Stuff.
The building above is pictured as an example, I have yet to come up with a design of
my own, but I'm looking at building in the area & gathering info. I know that whatever
I come up with will not be big enough. It will need to house two or three trucks, (1965
GMC 2500 One Ton Dually & 1960 Chevrolet L60 Viking), the 1953 Farmall Super C
Tractor, & the GMC Twin-Six V12 Project, not to mention that I'll need some office
space as well. The doors will need to be tall enough for the Viking to fit under them.
~ 6066 GMC Trucks ~ 6066 GMC Trucks ~ 6066 GMC Trucks ~ 6066 GMC Trucks ~ 6066 GMC Trucks ~ 6066 GMC Trucks ~ 6066 GMC Trucks ~ 6066 GMC Trucks ~
© 2000-2005 6066 GMC Trucks. Last Updated April 16, 2005.