May-June 1965 GMC Truck News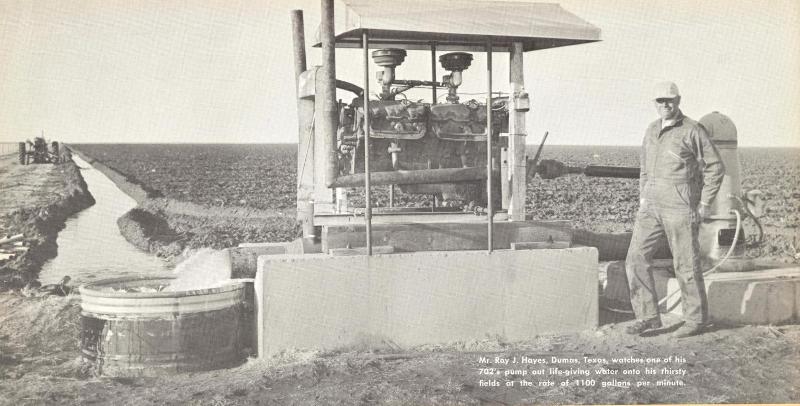 Mr. Roy J. Hayes, Dumas, Texas, watched one of his 702's pump out
life-giving water onto his thirsty fields at the rate of 1100 gallons per minute.
GMC Irrigation Engines
help reclaim wasteland
In the Great Plains section of our country, GMC engines are helping to turn dry, dusty
wastelands into plush, green croplands. Working 24 hours a day, often the year 'round,
they are pumping life-giving water across fertile fields which were once only barren plains.

Although most water used for irrigation nation-wide comes from surface sources like rivers,
reservoirs, & lakes, here in the country's midsection, it comes from mainly deep underground
supplies. To get to these subterranean sources, in some areas it is necessary to drill wells
over a thousand feet deep. Then getting the water to the surface & spreading it over the
thirsty soils a knotty problem in economics. Not only is the drilling of the well an expensive
operation, but so if the preparation of the ground before in can be irrigated. The land must be
leveled & furrowed, sometimes at a cost that can run as high as $30,000 per square mile.

Once the well is drilled & the ground prepared, Great Plains Rancher & Farmers are finding
that the GMC engines are one of the most effective means of cutting irrigation cost. They are
recognizing the engines' unparalleled durability & reliability -- so important when the power
units must sometimes operate unattended over extended periods of time. Because of the long
life & Dependability of GMC engines, more & more farmers are switching to GMC for pumping
power. The GMC engines, they are finding, are setting new durability records with only minor
maintenance of changing spark plugs, distributor points, lubricating oil & oil filters.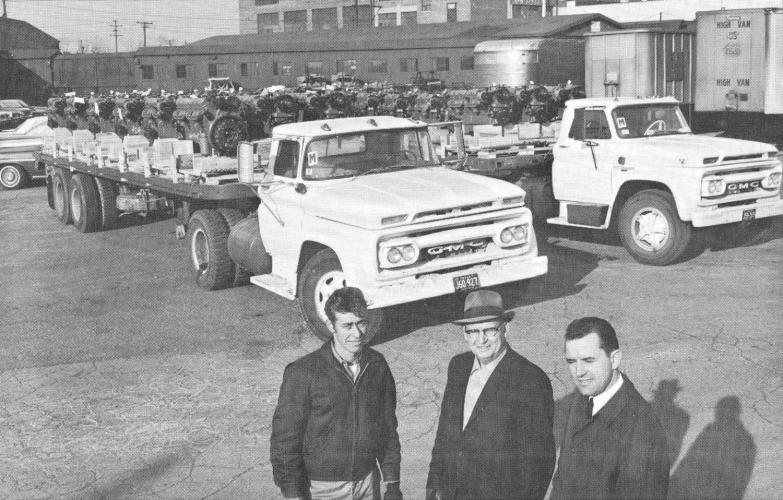 Here is a large shipment of GMC engines headed for irrigation application in the
Southwest. This particular shipment included 3 model 401's, 12 model 478's,
& 24 model 702's. Mr. George Murphy, Murphy Olds-GMC, Dumas, Texas,
equips these engines for irrigation service & sells them to the farmers in the Texas
Panhandle. Left to right are Messrs. Donald R. McKay of Murphy Olds-GMC,
George Murphy, & Fred Vollrath of GMC Engine Sales Department.
As a good example of this durability, Mr. Malcolm Garrett, of Garrett Farms, Clovis,
New Mexico, tells about the performance of their GMC Engines. "We use a number of
both the 478 & 702 engines on our 20,000-acre farm," he says. "An engine life of
10,000 hours has always been our objective. However, we now have one 702 with over
14,000 hours of operation without overhaul, & one 478 engine approaching 13,000 hours
without overhaul. Automotive engineers tell us that 14,000 hours of irrigation engine
operation is comparable to 420,000 miles of road operation. It's no secret that the
experience we've had with these irrigation engines is a major factor in our selection
of GMC Trucks for use on the farm.

Another user, Roy J. Hayes of Dumas, Texas, does not hesitate to recommend GMC for
irrigation pump work. "We have three 702s pumping now," He writes, "the first being
put into service over two years ago. It has now run 7008 hours, pumping 1100 gallons
per minute out of an 8-inch well 636 feet deep. The water lift is 365 feet. The pump
turns at 1760 rpm on a 40 to 3 gearhead ratio making the engine turn at 2347 rpm. In
all this time, we have replaced the ignition points & spark plugs only four times --
or about once every six months. How long will they last? We don't know yet, but we
think they will be doing a god job for us for a long time to come. Naturally, we are
pleased with these GMC engines & do not hesitate to recommend them. In this area,
any of them are replacing large industrial engines costing over twice as much."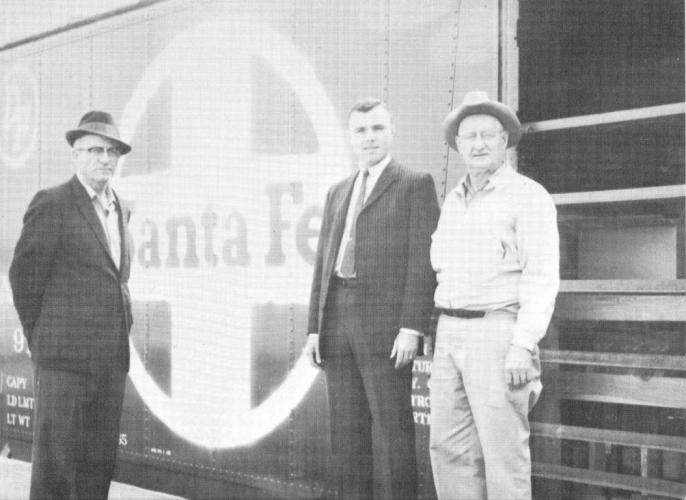 Shown here standing beside the carload of engines if, left to right, Mr. Horace Holt, Santa
Fa Depot manager, John Grimes, GMC Parts & Accessory Representative, & Mr. Earl Ladd.
When Mr. Earl Ladd, Ladd Pontiac, GMC, dealer in Muleshoe, Texas, decided to go into the
irrigation engine business, he did it in a big way. He ordered a solid rail-carload of
69 V-6 & V-12 engines. When they arrived, Muleshoe's radio station, KMUL, Covered the
event. In his statement over the radio, Mr. Earl included these in his comments: "I'm
Handling the finest engines the industry has to offer . . . This is a great day for me
& for farmers out there, because the GMC engines have been giving good service for the
past 5 or 6 years . . . I fell this shipment is a great step forward & will mean greater
progress for the high plains . . . I will be happy to have all the people come in & see where
we stack them around the showroom . . . We are going to have a Showroom full of engines."
Return to The 6066 GMC Trucks Memorabilia Page.
~ 6066 GMC Trucks ~ 6066 GMC Trucks ~ 6066 GMC Trucks ~ 6066 GMC Trucks ~ 6066 GMC Trucks ~ 6066 GMC Trucks ~ 6066 GMC Trucks ~ 6066 GMC Trucks ~
More GMC Twin-Six V12 Pages @ 6066 GMC Guy
~ 6066 GMC Trucks ~ 6066 GMC Trucks ~ 6066 GMC Trucks ~ 6066 GMC Trucks ~ 6066 GMC Trucks ~ 6066 GMC Trucks ~ 6066 GMC Trucks ~ 6066 GMC Trucks ~
© 2000-2009 6066 GMC Trucks. Last Updated March 21, 2009.