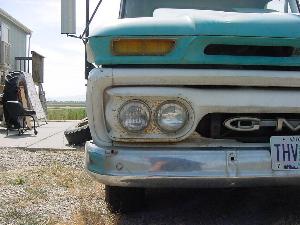 If so then they are working the way they were designed.
There was a law passed in 1968 that made it mandatory for them to stay on, that was the
same law that required side maker lamps. So how can you update you 1960 to 1966 GMC truck?
It's easy, just follow the steps out-lined on one of the pages listed below. The following
pages are for GMC Trucks, & MAY work for Chevrolet too, but please check & made sure
your switch is the same before doing this mod.
Just click on the Year Group your truck fits into.
[1960-1963] [1964-1966]
Park Lamp Removal
Has anybody found an easy way to remove these lamps from 1962 to 1966 trucks? The hard part is
holding down both clips on one side & pushing the lamp out at the same time, need more than
three hands for this, right? Well try this, Fabricate a tool out of 1/4-inch square steel
stock (bar stock) to the dimension shown in this scan.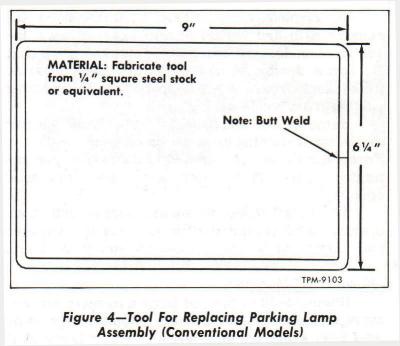 You will need to build this tool.
To remove lamp assembly, raise the hood, (duh), & remove the bulb-socket assembly. Insert tool
under the two lower retaining clip, & force handle of tool downward & at the same time
exert pressure (Hit Hard) on lamp body to force lower portion from hood opening. (see pic)
Be careful removing the tool as you will pull the lamp back into place, there is not
much room & you need to get it out on the bottom before you can get the tool in the top.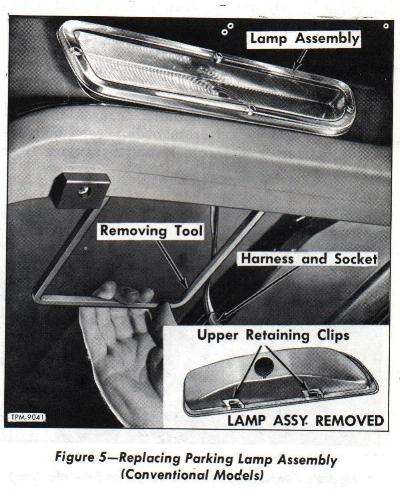 Now insert tool in the same manner on the top of the lamp, but pushing upward, push lamp
from hood. Cool eh? this is right from the GMC Manual, well most of it.
Using Chevrolet Lamps In Your GMC Hood
Now that I have the broken lamp out of my truck, & a set of NEW Chevy lamps just
sitting around, I tried a bit of an experiment.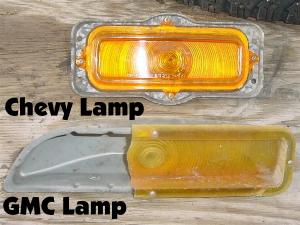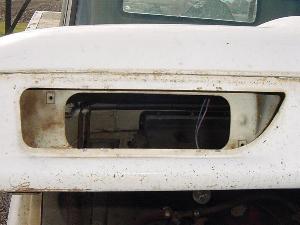 Back behind your lamp you will find a hole smaller then the one on the outside of the hood,
& there will be two treaded nuts welded on either side of this inner hole. That hole &
those nuts will hold a 1962-1966 Chevy lamp assembly.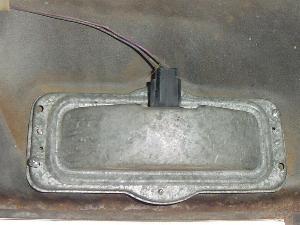 The Chevy lamp bolts on from the inside of the hood & you only see the lens part
of it from the outside. Now if you painted this inner panel black before installing the lamp, I
think it could pass for a looking stock, after all you will still have the GMC hood & the
opening with be the same shape as the old GMC lamp. One could go this way to replace
those hard to find & way over priced GMC lamps.
~ 6066 GMC Trucks ~ 6066 GMC Trucks ~ 6066 GMC Trucks ~ 6066 GMC Trucks ~ 6066 GMC Trucks ~ 6066 GMC Trucks ~ 6066 GMC Trucks ~ 6066 GMC Trucks ~
Lighting & Electrical Projects
&/or Demons in Your GMC
~ 6066 GMC Trucks ~ 6066 GMC Trucks ~ 6066 GMC Trucks ~ 6066 GMC Trucks ~ 6066 GMC Trucks ~ 6066 GMC Trucks ~ 6066 GMC Trucks ~ 6066 GMC Trucks ~
© 2000-2005 6066 GMC Trucks. Last Updated April 18, 2005.