6066 GMC Trucks Backup Lights
Upgrading Stock Backup Lights
GMC Trucks came with Back up lights standard stating in 1966. A federal law when into affect that
required them on all trucks with bodies. This same law also required Windshield washer, Dual
speed & Anti-glare Windshield wipers, Seat belts, & Two rear-view mirrors. before 1966, all
these items were options offered on GMC Trucks. The following was written up by Craig Ueltzen.
My backup lights worked when they wanted too. They weren't as bad last year, a good smack on
the quarter panel was good for a few days of light. Then they just got too intermittent to put up
with anymore. Simple 10 minute repair right? Wrong. The engineers 40 years ago made the
fixtures a little different. Here's the cure to the intermittent problem.
Why did I put up with them so long? Who knows?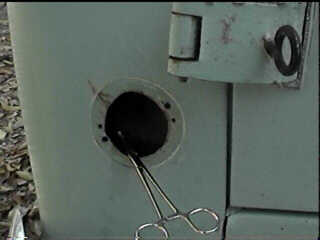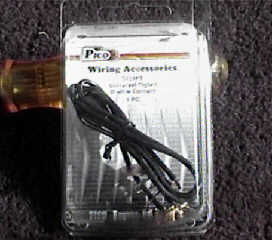 First of all, the lights are held in by (more than likely) rusted nuts & bolts. I used a pea grinder to
get rid of the bolt heads. Then the wire was too short to bring out of the hole. I used hemostats to
hold it from pulling back as I cut it off. Then I thought I was going to use a socket repair kit to
fix the corroded connector. Well... sorta' The fixture doesn't have enough clearance at the bottom
to allow the usual insulator disk, spring, & wire repair piece to fit.
The bulb won't lock in because the original connector fits way down in the rubber piece, & the repair kit
holds the bulb about 1/4" too high to allow the pins to lock in the slot. It's spring rusted into oblivion,
& I removed it's remains from inside the brass piece. The spring shown is from a cheap ink pen, & fits
perfectly. Get a kit for 1157 bulb sockets, & you will gain the needed two wire pieces.
Discard the plastic disk parts.
I cut the spring in half to get the length right, then reassembed the socket. Now the bulb locks solid again.
Since the old Suburban uses glass lens, I can use special Federal Signal 100 watt halogen light bulbs.
A plastic lens would last less than one minute with this bulb before melting into a blob. Notice the tune-up
grease. It eliminates corrosion. Try it on your RV bulbs, & you won't have to play the "light bulb game"
the next time you hitch it up.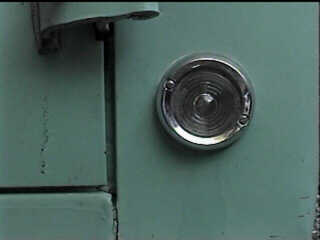 I reinstalled the fixture with self tapping screws to replace the inaccessible nuts & bolt setup. I didn't
paint the inside because of the 100 watt bulb's heat. Normal bulbs would benefit from silver of white paint
to help as a reflector. You can get 55 watt halogens from some parts houses. Don't get finger oils on the bulb!
Use a tissue paper to install halogen bulbs.
Back in the truck, & somewhat tilted due to needing blank sheetmetal for the new screws to grab. They don't look
too bad from a few feet away. Love those genuine glass lens! & now, they actually turn on when needed! Use
a relay to operate the backup lights if you use high powered bulbs. The backup switch won't handle the extra
current draw. Refer to The Bosch Relay Unraveled page for relay help.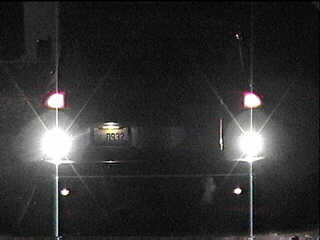 200 Watts Of Backup Light Power!!!
Lighting & Electrical Projects
&/or Demons in Your GMC
~ 6066 GMC Trucks ~ 6066 GMC Trucks ~ 6066 GMC Trucks ~ 6066 GMC Trucks ~ 6066 GMC Trucks ~ 6066 GMC Trucks ~ 6066 GMC Trucks ~ 6066 GMC Trucks ~
© 2000-2008 6066 GMC Trucks. Last Updated July 29, 2008.