Stock GMC Instrument Cluster
1000-3000 Instrument Cluster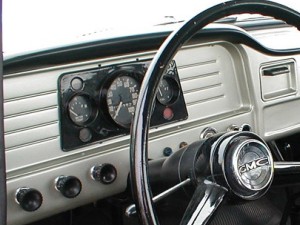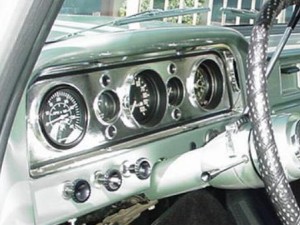 1960-1961 GMC Instrument Cluster ~ 1962-1966 GMC Instrument Cluster
Above are the two styles of Instrument clusters found in GMC Light Trucks. They are
interchangeable with each other & may also be found in the Bigger GMC Trucks.
The first style was use in the 1960-61 light trucks, big trucks & Canadian Built
GMC trucks 1960-66. It's a single cluster set-up mounted into a metal panel with
that mounts into the hole in the dash. 1962-1966 have an all plastic panel with the
gauges integrated on to the back side then it is fitted into the hole in the dash.
Below are the layout guides from the Operation manuals of the Instrument Cluster.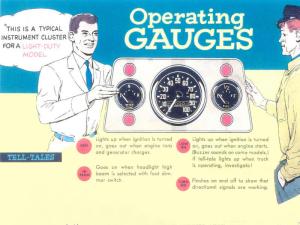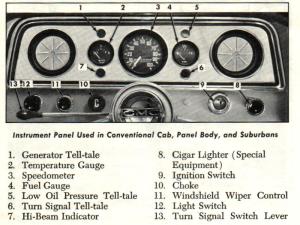 1960-1961 GMC Instrument Cluster ~ 1962-1966 GMC Instrument Cluster
The light GMC trucks came stock with three gauges, Water Temp, Speed-o-Meter (100 mph),
& Fuel gauge. Those three gauges filled the three holes on the cluster. They was also
Some optional & dealer installed gauges that could be found. Three of these would fit
into the two big hole on either side of the stock cluster. The Electric Clock, Sun
Electric Tachometer (5000 rpm), & the Bat-o-meter (Volt meter). There could also be
mounted to the right side of the dash an Oil pressure gauge.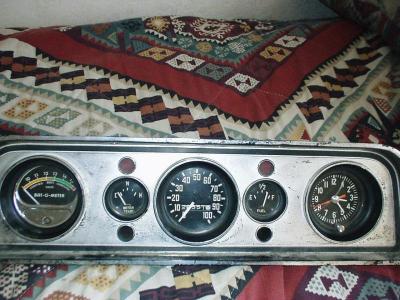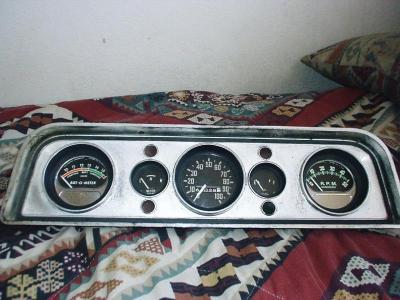 cluster w/Bat-O-Meter & Electric Clock ~ cluster w/& Bat-O-Meter & Sun Tachomter
These are from Pete's Collection of Gauges & Cluster.
3500-7000 Instrument Cluster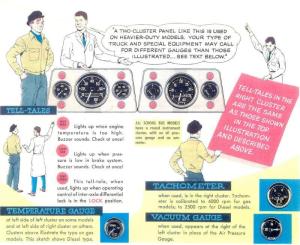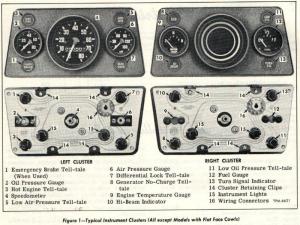 Big GMC Truck Instrument Clusters
Big GMC trucks came with one or two Instrument Clusters depending one what was required.
If only one cluster was used, it would have the same set up as the light trucks set up
up above. If there was two clusters used, then the left cluster would have, Oil Pressure
gauge, Speed-o (80 mhp), & Air Pressure gauges. The right cluster could have Water temp,
Tachometer, (4,000 rpm for gas models, or 2500 rpm for diesel models) & Fuel gauge.
Some may have a Vacuum gauge & Volt meter. There is also an hour meter built into the
tachometer. Ammeters were also installed by some dealers. The Tachometer on bigger
GMC model was cable driven off the back of the camshaft.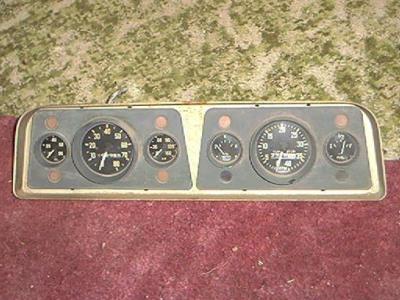 Big GMC Truck Instrument Clusters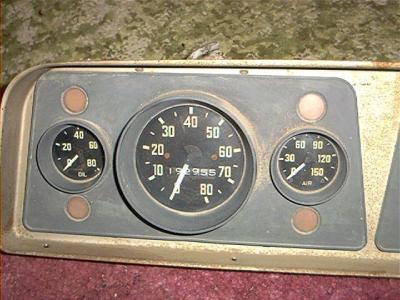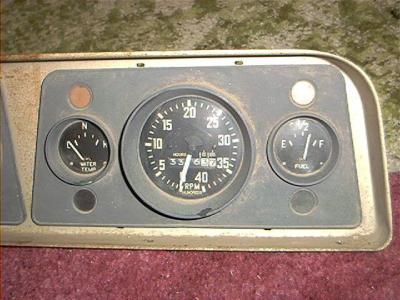 Big GMC Truck Instrument Cluster Close ups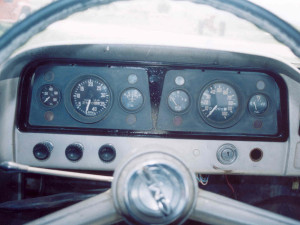 For info on Custom GMC Instrument Cluster, click here.
~ 6066 GMC Trucks ~ 6066 GMC Trucks ~ 6066 GMC Trucks ~ 6066 GMC Trucks ~ 6066 GMC Trucks ~ 6066 GMC Trucks ~ 6066 GMC Trucks ~ 6066 GMC Trucks ~
Lighting & Electrical Projects
&/or Demons in Your GMC
© 2000-2008 6066 GMC Trucks. Last Updated July 29, 2008.